News
Sign up for our "Friends of NAPM" e-mail newsletter
Come see the layout that was featured in the March 2003 Model Railroader
See photos Taken during the 2010 NMRA National Convention here: NMRA 2010 Milwaukee - NAPM LDSIG Tour

See NAPM on "Tracks Ahead" Episode # 703 - See Below !

Attention NAPM Members

:
Stay informed with the NAPM Groups page at Groups.IO . (Open to club members only).
https://groups.io/g/NAPM

Horizon Hobbies visits NAPM during Trainfest 2011 in Milwaukee.
Video Includes scenes around the layout with a narration of how NAPM started, the members , and of course the layout itself.





Episode #703 of "Tracks-Ahead" was released for broadcast in 2009. See this episode here.


On January 3, 2007 the "Tracks-Ahead" video crew from Milwaukee's Channels 10/36 visited NAPM for an all-day session to record the club's layout. The busy day included interviews of members narrating club history and operations followed by hours of carefully choreographed train movements. Most of the run-bys and meets were repeated several times for maximum sound and visual effects. Still, despite the long hours of work, the segment we'll enjoy on the show will likely be less than five minutes in duration! Our segment is not expected to show until the 2008 season. Check out the photos below!

"Quiet Please!"
shouted T-A Producer David Baule, and the camera was on the move. The Channel 10 crew brought their own rail of sorts with them -- an ingenious pair of collapsible aluminum tubes that usher the camera platform smoothly along with the trains. Here Empire Builder engineer Mike Beckemeier takes his queue to roll as onlookers fall silent.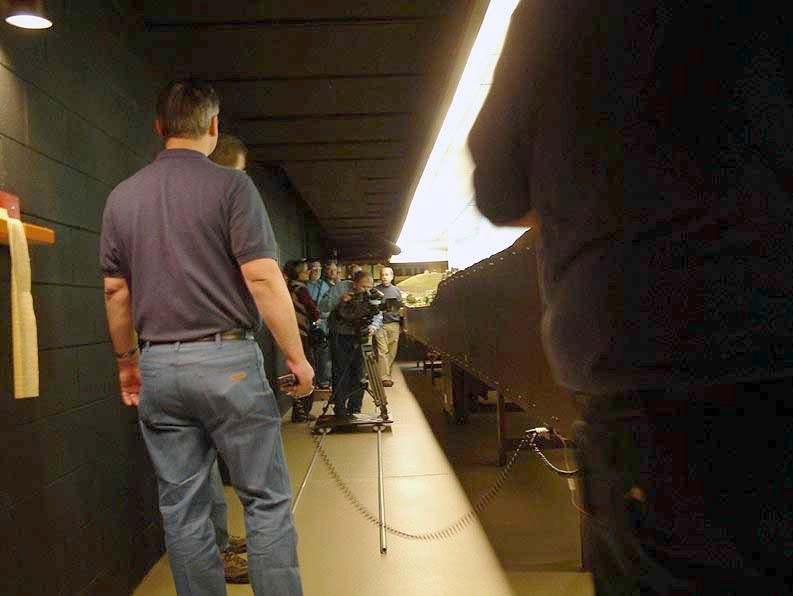 NAPM President Al Houtz readies the next train to go as Great Northern pilot Mike Beckemeier eases his "Builder" onto the westbound main under the tight scrutiny of the camera. Meanwhile the "sound lady" with recording equipment strapped around her waist faithfully guides her microphone along with the growling engines as they accelerate.